Right, how to start this shameful Blog?
Yes – I am indeed a Professional Organiser and yes…for a living I de-clutter peoples homes and lives.
This DOES mean that I am extremely organised myself and yes it DOES mean that I enjoy to regularly go through my belongings getting rid of all that is no longer welcome and giving it to a new home – 'Making someone else Happy' is my description for this…
However…..there is one area in my life which I haven't cracked. An area which every day bugs me, causes me and my poor body issues and an area that I hide from my many clients…
This is MY HANDBAG!
Take a look below….OH THE SHAME!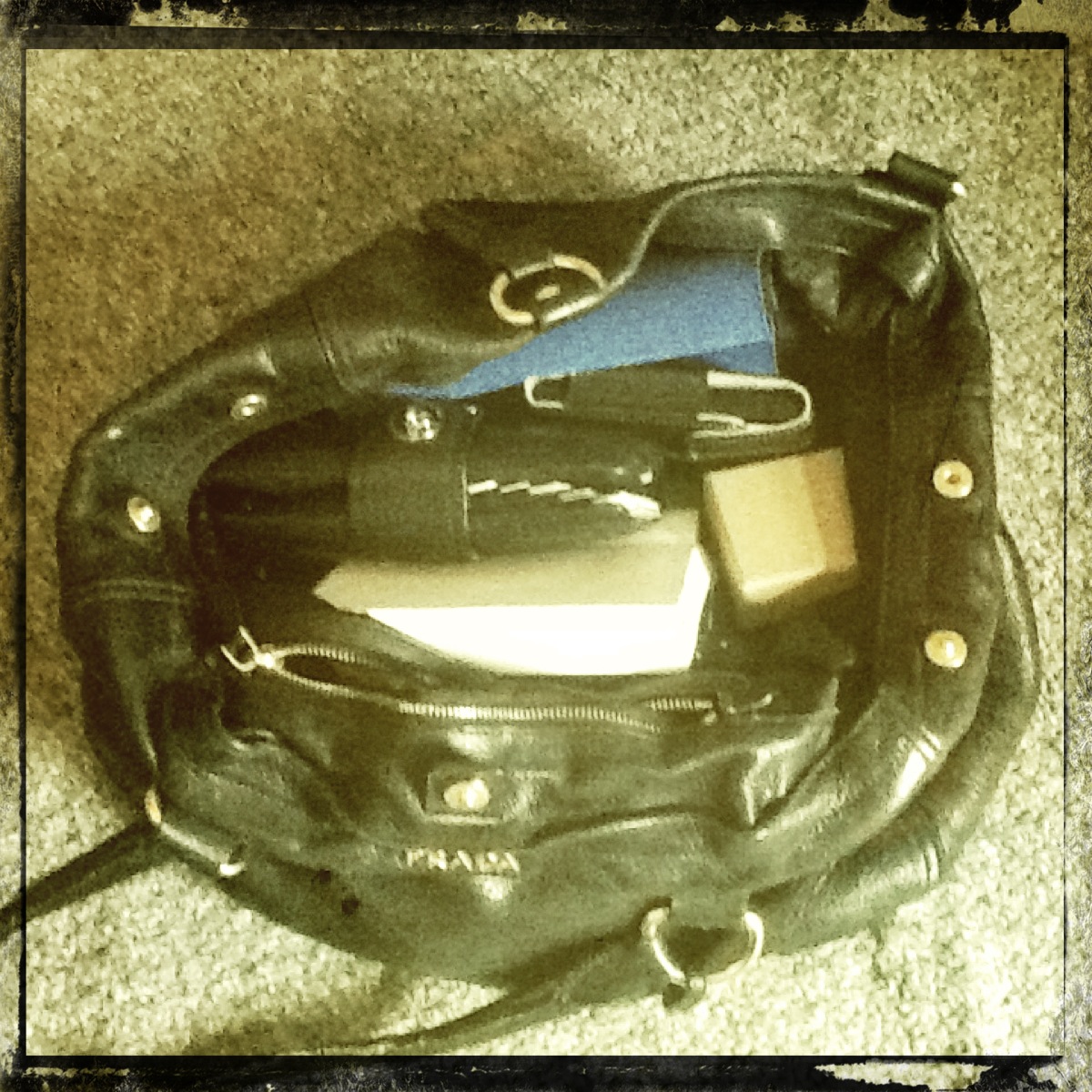 *Here for your interest are the contents of my bag. You will probably work out why I have a bad back! Oh, and I am doing this for real so nothing will be hidden…
A back support band
1 pair black leather gloves
A nail buffering set An A4 Note book
1 Green Envelope (My initiative allowing all clients to get access to my top recommendations)
A wallet containing over 16 plastic cards etc (no credit cards I might add!)
3 Lucky charms – a stone heart from the beautiful Carmel in California, the head of a Japanese keyring that broke and a small glass guardian angel that hasn't left my side for over eight years!
Chanel face powder (I hate my nose being shiny!)
1 50ml bottle of Stella Nude perfume
2 lip glosses (Trish McEvoy & Lancome)
1 40ml tube of hand cream (Aveda hand releif)
2 Dermalogica trial sachets (sheer tint moisture)
1 small foundation
A large make-up brush
1 eyeliner (Black, Mac)
1 mint breathe spray (I'm not a gum girl)
1 Rennie heart burn tablets
3 hair clips 1 bottle nail varnish
5 hair bands
1 (clean) pair of socks
A music CD
1 box business cards
1 box business postcards
4 pens (yet I obviously can never find one!) 1 'Keep Calm' Oyster card
A BlackBerry headset
My BlackBerry
1 BlackBerry charger (I find the battery SO bad!)
1 iPad charger
1 iPad
2 USB cables
1 sat nav
1 mino flip cam
1 small USB stick
A large pile of non-work related receipts (the work related ones are filed neatly in an allocated section of my wallet!!)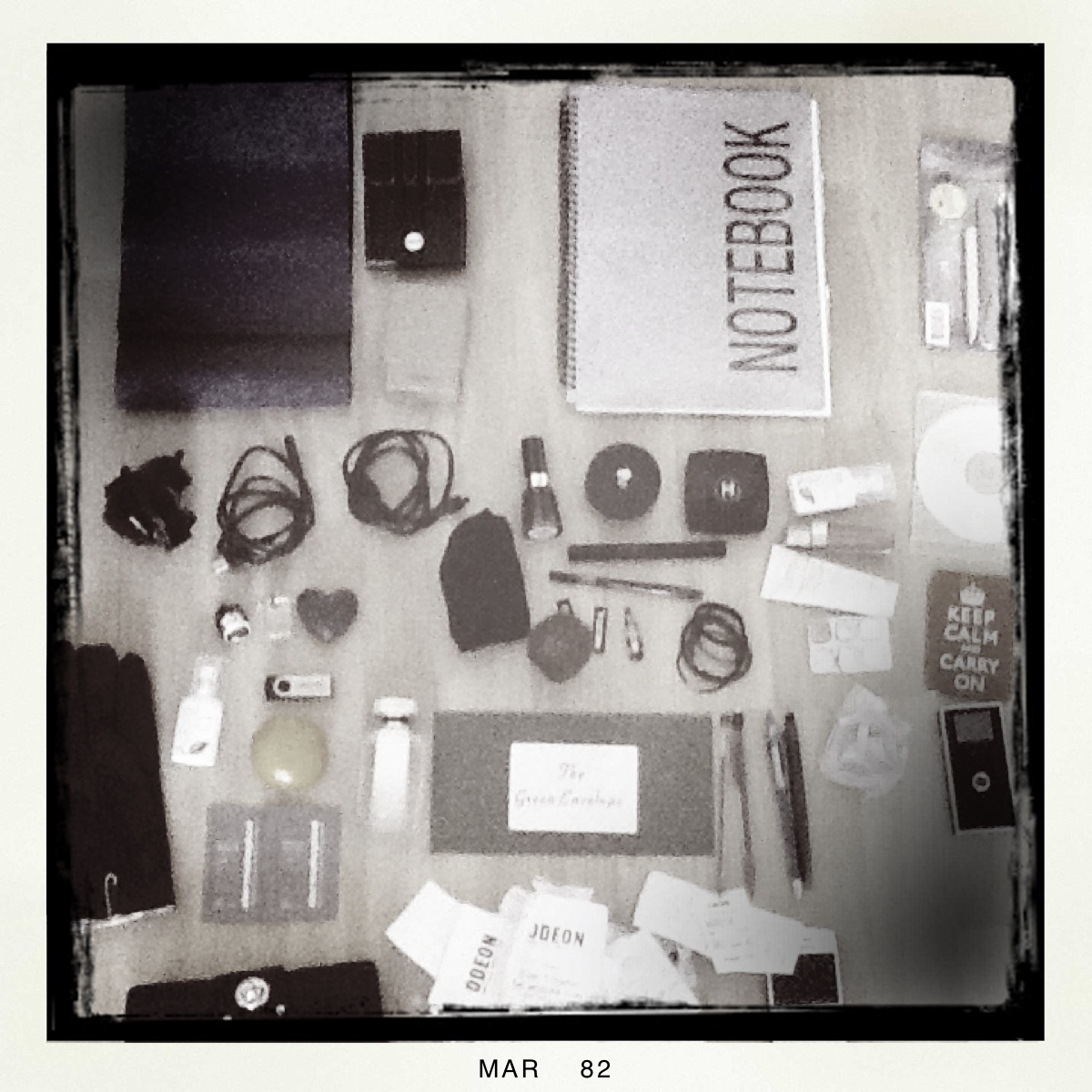 Now. This I think you'll agree is excessive. There is no way I need to carry this ridiculous amount with me daily (my back is certainly not having a good time) Even if I did carry this I wouldn't know what I had as it is all in such a mess.
I can honestly say there are not really any areas of my life that are cluttered but this is the worst. I am ashamed and there is no excuse (unless you let me use the fact that I organise others lives every day?!?!) but no, no excuse I agree.
*There is however a solution and I am loving it!
Bags in Bags
Fun to go out, choose and buy and an uncomplicated strategy that is as always, nice and practical. Keep-up-able!
So, take a look because I already know I will never go back:
Bag 1 – business cards, usb stick and pens
Bag 2 – Make-up bag (perfume has been put on the fantastic atomiser (shown on top)
Bag 3 – BlackBerry charger, USB cable and flip cam
-My sat nav stays, it works best for me in here.
-My wallet has been emptied and work receipts filed into there usual corresponding envelope (Jan 12, Feb 12, March 12 etc etc…)
-There are some things I will not compromise on – the good luck charms – well they are not going anywhere!
The end result – mmmmm organised! I love it!
I hope you like this friendly solution, have fun going out and buying your little bags an remember to choose different bags so you don't get mixed up!