In the interesting World of Professional Organisation and De-Cluttering which I work in, I am lucky enough to meet some really fantastic, interesting people. In-fact there is not one single client I have worked for/with that hasn't taught me something new in one way or another.
I wanted to share the story of one young lady I worked with recently. Her story was that her room needed re-shaping, and what was involved in the days we worked together was far from just moving 'stuff' out of her space. There was way more to it than that…it's sometimes a lot deeper.
Carmel, currently at university couldn't stop her collecting. I think the answers to the questions she has given (which are very open and honest) will give you not only an incite into her world, but also into how effective the processes of de-cluttering can be. In addition how it helps so many areas of our lives.
Carmel has a very good sized room in a student house near her university. When I entered, every inch of the room was covered with everything from clothes to hundreds of DVDs. The wardrobe was spilling out, and when I say spilling out I am not just describing a slightly overfull space, but the bar at the top had broken and the wardrobe and floor space piled meters high and sprawled across the room with clothing. You couldn't access anything that wasn't at the front without a lot of work and mess occurring in the process just to give you an image.
In rest of the room there was not a single clear surface. Books as well as bits and bobs, shoes and bags, paperwork and so much more made it hard to maneuver at all. Even under the bed was completely full and crammed full.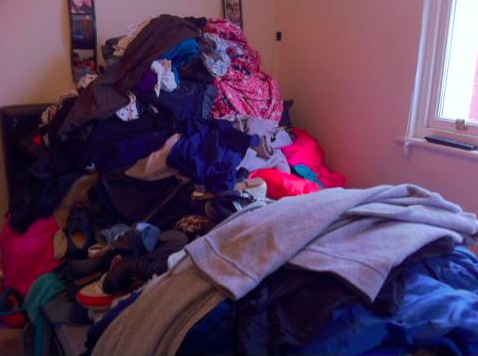 The Interview…..
Vicky:
Tell me, what were the emotions you felt over the months you realised enough was enough and you needed help?
Carmel:
I suppose I was just annoyed and fed up with having to tip toe around my own room in fear of something falling, and ashamed of my room to the point i didn't want to have any friends around let alone let any guys come in. I just got to the point where i was so angry with myself for letting it get to that state that i knew it was time to change.
Vicky:
What were the main items you were collecting?
Carmel:
All sorts, but i suppose it was mostly clothes and shoes as well as many many dvds. Everything though really.
Vicky:
For you, was it about the buying, the collecting or more about the buzz of the purchase?
Carmel:
I think it was a bit of all of that if I'm honest. It was so nice having all these new things all the time, but it was also exciting knowing they were going to be arriving at the door!
Vicky:
How much money would you say roughly you have spent in the year on your collecting?
Carmel:
I wouldn't be able to give an exact number but i would say between £25,000 -£30,000
Vicky:
And in your view what would you say/think the main reasoning as to why you became a hoarder/collector actually was?
Carmel:
I just enjoyed having new things, things that were mine. I grew up in care and I found I didn't really have anything that was my own, so i think as I got older and I was able to buy things for myself i just started to get carried away. Really carried away. It was more about the collecting, the having more new stuff that I'd never had before.
Vicky:
So how did you find the experience of the de-clutter? Was it what you expected? (We worked solidly for two days)
Carmel:
I didn't think it was going to be so easy for me to part with my things in the end, but it became easier as the day went on. I suppose I had so much that I didn't really care about, so much that didn't actually matter.
I wasn't expecting to get upset though, and I didn't think my room could look SO amazing! I didn't know how we'd get through it! I didn't really know how or what to expect!
Vicky:
Once complete, the room de-cluttered and everything in place do you think you will be able to stay this way? And how has the last month or so been since we did it?
Carmel:
Since the de-clutter I have a lovely tidy room that I still invite friends round to. I don't buy new things all the time and if I do buy something, I make sure i substitute things I already have and give to charity. I also enjoy having people around, and I am now seeing a guy and I don't mind him coming to mine where as before I wouldn't have invited him EVER!
Vicky:
When everything left heading for charity shops and out of your life how did it make you feel?
Carmel:
Saying goodbye to so much stuff felt like a huge weight had been lifted off my shoulders, it made me feel relieved that it had finally gone. But I could see it all go, and that made me realise how much I had spent. That was hard, really hard.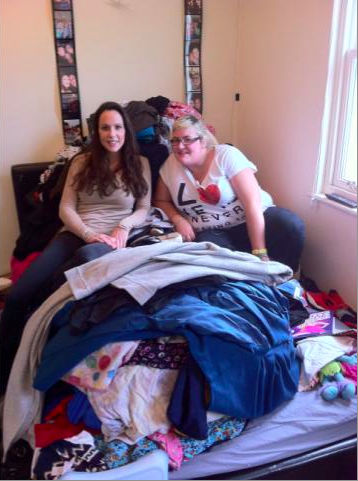 Carmel:
Overall the experience of the de-clutter was amazing, I enjoyed all of it from start to end, Vicky's help has given me the confidence to allow people into my house now, and finally I have met a guy who I can bring home 😀